Dearest Poopers, Are old clothes cluttering up your closets? Make room for meaning Aug. 27-Sept 1!
Here's the skinny...
WHAT: The 12x12 Project WHERE: First Park, 33 East 1st Street (at the corner of Houston and 2nd Ave) WHEN: Aug. 27-Sept. 1, 12-7pm. Rain or shine! WHY: We all need more room, right? Especially in our tiny NYC apartments, and especially for FASHION! But even Oprah knows that we're already making do with less, wearing 20% of our wardrobes 80% of the time.
If there's one thing poop can teach us, it's that when we let stuff go, we create space for something new to come in. So come out of the closet, get it off your chest, and bring The Puru your unused clothes! Sit in the shade of the 12x12. Take a rest, drink some sun tea, and we'll make something new.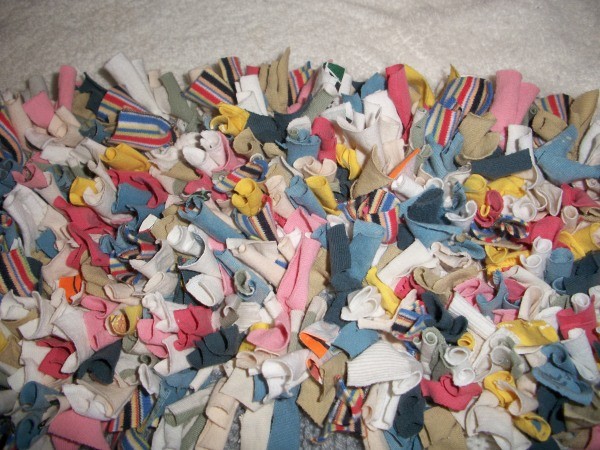 I'll be turning old t-shirts into yarn strips, and inviting you and passersby to join me in latch hooking small patches of rug. It's super easy! Each patch is just 12 squares across by 12 squares up and down, so it doesn't take long. I'll spend the last day hooking all the patches together in a colorful expression of community cohesion. And we'll party that Sunday (9/1) from 5-7pm!
All clothes and textiles not turned into yarn will be donated to Wearable Collections for resale or re-purposing.
How did this all happen?!
In 2010, World Policy Institute Senior Fellow William Powers wrote a book called Twelve by Twelve: A One-Room Cabin Off the Grid & Beyond the American Dream, inspired by the story of a North Carolina pediatrician who renounced modern luxury to live on the land and off the grid. This tiny cottage got people asking: how much is enough? (More about the project's development and future plans HERE.)
Soon artists Simon Draper (from Habitat for Artists) and Betsy Damon, among others, were brought in to design and build a simple structure that could live in New York City. Throughout July, a swarm of artists created installations amongst the bees at the Queens Botanical Garden. Now the 12x12's come to roost in Manhattan until Sept. 1, in beautiful First Park.
See below for a full description of the artists, curated by WPI and Fourth Arts Block. Check back here for updates on the latch hook project as it evolves, and then come check it out in person! I look forward to seeing you there.
Yours in balance,
Shawn "The Puru" Shafner
OUR PARTNERS
The World Policy Institute
The World Policy Institute is a center for global thought leadership focused on emerging challenges, thinkers, and solutions. World Policy Journal, fellows, events, policy development and media outreach, provide a forum for solution-directed policy analysis and debate from a global perspective.
Fourth Arts Block
Fourth Arts Block (FAB) is a non-profit organization founded in 2001 by cultural and community groups to establish and advance the East 4th Street Cultural District, between 2nd Avenue and Bowery. FABnyc is partnering on the 12×12 exhibition at First Park as part of their SUSTAIN project, with generous support from the Rockefeller Foundation Cultural Innovation Fund: www.fabnyc.org/sustainability.php
Wearable Collections
Wearable Collections creates hubs of collections that make it as easy for New Yorkers to recycle textiles as it is to recycle cans, bottles and papers. We keep clothing out of landfills while raising money for charitable organizations.
AUGUST SCHEDULE
August 6 -11, 2013: Presented by WPI, NYC-based artist Ivy Haldeman will use the 12 x 12 as a space to reflect on the aesthetics of darkness as an indirect means of living sustainably. In opposition to a mentality of 24/7 activity, Ivy will make the 12 x 12 into a place for napping and rest.
August 13 – 18, 2013: Presented by FABnyc, Mario Chamorro, Catalina Parra, and Pablo Gnecco of The Happiness Lab will create social experiments through art within the 12×12 space in order to explore and visualize how people use their own happiness to develop sustainable communities.
August 20 – 25, 2013: Presented by WPI, musician Jonathan Koh will compose music in the 12×12 space, using a combination of classical techniques and synthesizers. His work will contemplate how music can help the listener engage with space and reflect on smart consumption in a small space.
August 27 – September 1, 2013: Presented by FABnyc, NYC-based performance artist Shawn Shafner invites visitors to create their own square patch of latch hook rug, 12 rows across and 12 columns up and down. The last day of the project, the squares will be sewn together, creating a vibrant patchwork and an expression of community collaboration.